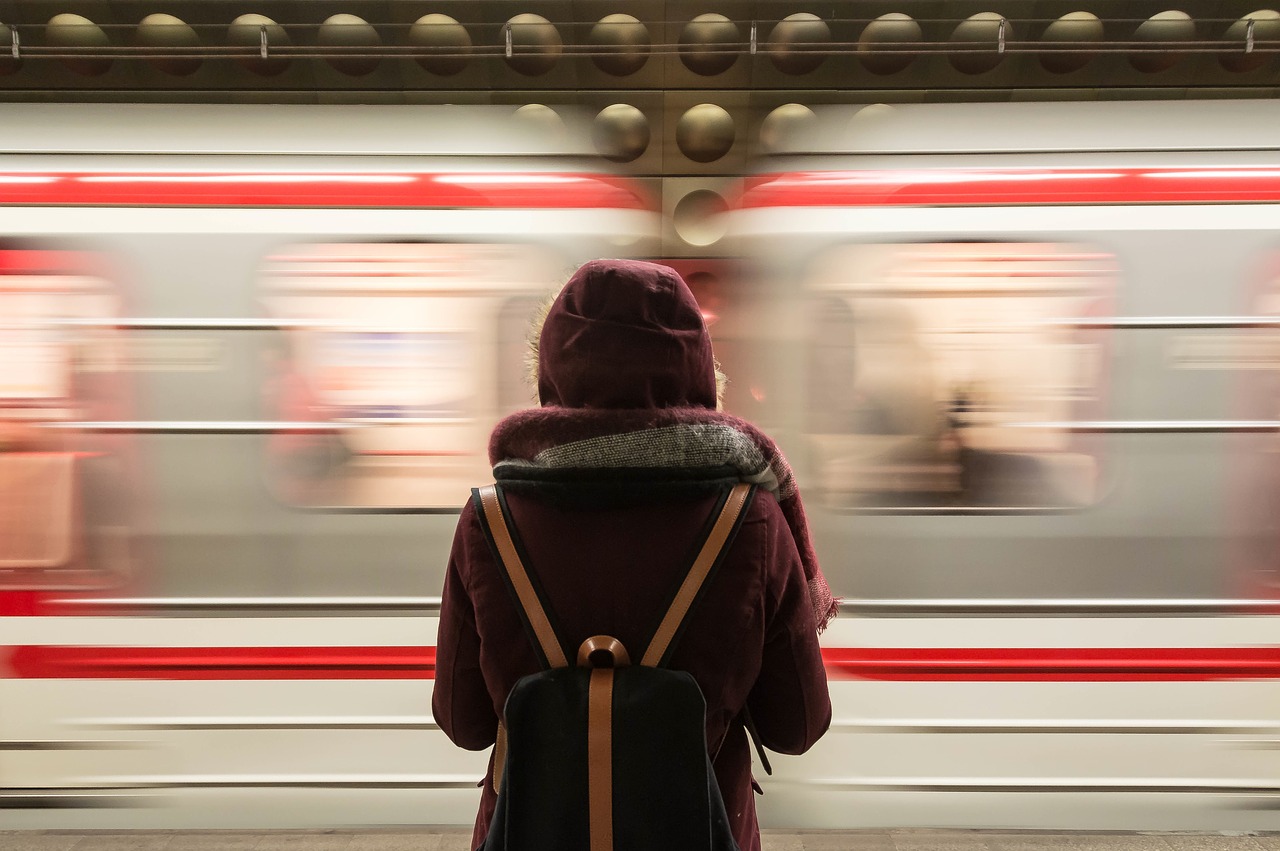 With more than 9 million young people benefiting from the Erasmus Programme, the Erasmus programme has contributed to a more integrated and inclusive European continent. However, this has an impact on the travel behaviour of young people. ESN believes that more efforts are required to support environmental travel opportunities for students on mobility.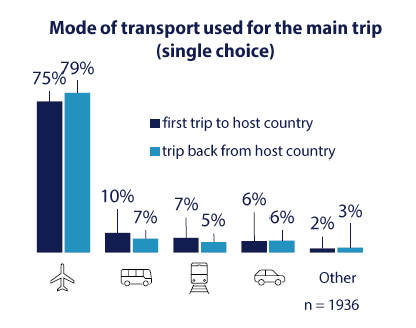 In May 2020, a snapshot survey to understand the travel behaviour of Erasmus+ students during their mobility was carried out amongst the members of the Erasmus Student Network by Eurail. A total of 1,967 former Erasmus+ participants from 20 different European countries took part. The most used method of transport was by plane, both for their move to their Erasmus destination (75%) and return from their mobility at the end (79%).
Most respondents (92%) went on several leisure trips while on their mobility, with an average of 7 additional trips during their stay abroad. On average respondents returned back to their home country 1 time, 4 trips were taken inside the host country and 3 trips were taken to other countries during their period abroad. The average amount of trips decreased to 6 trips if students spent less than 3 months on exchange, while it increased to an average of 8 trips when students spent more than 6 months abroad. When the modes of transport for leisure trips were surveyed, an increase of the use of busses (77%) and trains (59%) was noticeable, most probably due to the proximity of the locations explored inside the host country and the countries around. Still, 50% used an airplane for one or more of their leisure trips. Most of the respondents considered their leisure trips essential to become more open to different cultures, and considered the impact of their capacity to adapt to unexpected situations and their comprehension of the world.

The Erasmus+ grant covered up to 50% of the costs of half of the respondents - with local transportation taking up to 11% of their budget. 9% of respondents indicated they received a bonus to cover mobility costs.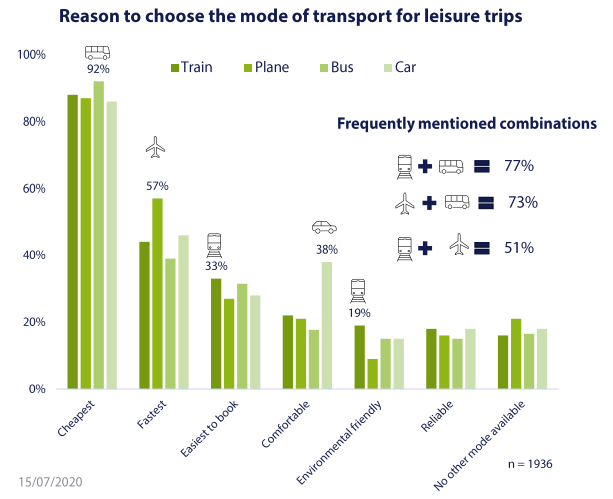 Driven by cheaper and faster means of transport, only 15% of respondents factored in environmental factors in their decision about transport. While many liked the concept of Interrail or an adapted version for Erasmus+ students that would allow students to travel across Europe by train with one single ticket, respondents further indicated that train options are considered expensive, and students struggle with planning a complete itinerary on European train networks.
ESN believes that the Erasmus+ programme remains an important pillar to improve the Higher Education sector in Europe. With this first snapshot research in mind, ESN's goal is to continue working in making the Erasmus+ programme more sustainable and transform the Erasmus+ programme as a tool to educate young people about the importance of sustainability. In order to achieve this, ESN has recently launched a project and joined another one on the topic.
Green Erasmus:  this project is led by ESN and it will start with developing further research on the lifestyle of students abroad and beliefs of Erasmus+ students towards environmental sustainability. This extensive research will serve as the basis for a handbook on sustainable internationalisation, an educational portal, campaign and petition to support a change in behaviour of Erasmus+ participants. It will be supported by an educational framework set up to include environmental sustainability and sustainable skills in the curricula, and include a toolkit for environmental sustainability outreach activities.
Erasmus Goes Green: this project is led by the University Versailles Saint-Quentin-en-Yvelines University (UVSQ). Similarly to Green Erasmus, this project will tackle the topic of Erasmus and environmental sustainability. While Green Erasmus focuses on students themselves, this project is more about how to improve the Erasmus+ programme. One of the things it will do is to develop a measuring tool where students, universities and the European Commission can easily see the carbon footprints of, for example, the travel to the host university.
In 2020 ESN joined Generation Climate Europe to advocate for more solutions and contributed to the European Parliament's efforts in making the Erasmus+ Programme more environment friendly.
Read the full "Students' Mobility Needs" survey report below